When we first start out as bloggers we hear of the fabled auto-blog and post automation but in this article I am going to show you exactly how simple it is to actually schedule all of your WordPress blog posts for the entire month. I usually never really talk about scheduling posts further out then 1 month because that is just the way that I do things but some of the pl. By the time you are reading one of my articles, chances are that I possibly wrote that post a month ago.
This extremely useful feature is slightly hidden which is why many beginners don't even notice it. The reason that it is useful for me is because I will spend 1 day each week scheduling posts for that blog. That is my full work day for the week. The rest of the week I collect and create content for the next weeks scheduling. If I have enough content I will schedule up to a month out.
By scheduling your posts, you never have to worry about publishing your articles at a specific time. You can finish writing and schedule them to go live on the day and time that you choose.
Today I want to talk about how simple it is to easily schedule WordPress posts step by step and share some bonus tips to use WordPress scheduled posts like a Pro.
Why do you want to Schedule Posts in WordPress?
The best strategy to start a thriving blog is to plan your editorial calendar and publish high quality articles on a consistent basis.. I take that back. You don't always need high quality but if your quality sucks then your content needs to be AMAZING.
The consistent part is key and that's why I am making sure all affiliate bulldogs understand how to schedule their posts out in advance. When your posts are being automatically posted on a schedule it allows you to write at your own pace because you can spend time getting caught up on writing and then schedule everything out for the next couple of weeks.
One other major reason to consider scheduling your posts at specific times is that by studying the Google. Facebook, and Website analytics and running our experiments we can see which times of the day gives us the most eyeballs or the most traffic. This allows us to leverage the traffic we are already getting in order to increase the amount of conversions we get which in turn reduces our Facebook ads costs.
Another thing is that when you live in a different time zone than your audience it can become annoying to try to remember all of the different time zones you have readers in. For example; lets say you are running a crypto blog while you live in America but you have an audience in South Korea! You may have peak traffic times at 3 am! This is when scheduling posts becomes more of something we have to do instead of a luxury that is just nice to think about.
Another reason comes back to consistency again. What if you happen to go on vacation? You don't want to lose readers while you are gone or it may be awhile before you can take another one! Its a good thing you can simply schedule your blog posts and enjoy your time off without stressing about pushing content.
If you didn't understand the importance, now you do. Now that we have that out of the way, let me show you how it's done.
How Do You Actually Schedule a Post in WordPress in 2019?
It is easy to schedule WordPress posts if you know where to look. The problem is that the option to schedule blog posts is not easily noticeable for everyone.
Once you have finished actually writing your blog post, go ahead and look under the 'Document' tab on the right column of the edit screen.
Under the panel that reads 'Status & Visibility', go ahead and click on the link that reads 'Immediately'. It is next to option for 'Publish'.
Now you can see a menu to select the time and date that you want your post to be published.
You can select a future date and time to schedule your article in WordPress.
You can also select a past date using the same tool to back date your blog post.
When you select a future date, you will notice that the publish button at the top will change into 'Schedule…'.
One you click on the Schedule button and WordPress will schedule your post.
The scheduled posts will be automatically published on the date and time you choose.
How to Schedule WordPress Posts in Classic Editor
If you would rather be using WordPress editor's classic version, then a good idea is to start using Gutenberg, the new WordPress block editor.
Gutenburg is a super fast, modern and smart design that helps you create better looking content for your blog with a higher production value so to speak.
However, if you still want to use the classic editor, then I will show you how you would schedule posts in WordPress.
Once you are done writing your post, look under the 'Publish' meta box in the right column of the edit screen and click on the 'Edit' link next to 'Publish immediately' option.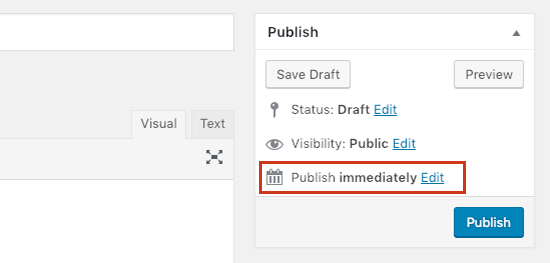 Now you should see date and time options. Next, enter the date and time for when you want your post to be published.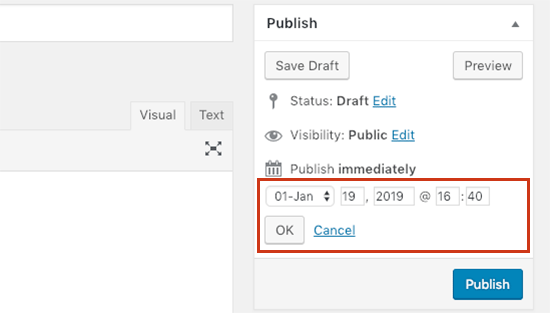 You'll notice that the blue 'Publish' button will now change into 'Schedule'. Next, click on the schedule button to save your post.
WordPress will publish your blog post when that date and time occurs in the future.
WordPress Scheduled Posts Troubleshooting
If  you are following the instructions outlined in the training on affiliatebulldog.com, then you will be managing and scheduling more and more WordPress posts on a consistent basis. For those of you who are doing this, I want to pass along some handy tips that will help you efficiently manage all of your scheduled posts in WordPress for your blog or website.
Dealing with Timezones in WordPress
First, the WordPress timezone settings need to be changed, so that it uses your preferred timezone to publish scheduled posts.
How to manage scheduled posts in WordPress?
Login to your WordPress admin panel and go to Posts » All Posts page and then click on the 'Scheduled' link above the posts table. It will show all scheduled WordPress posts in the queue.
How to fix WordPress scheduled posts missing their scheduled post!?
To run scheduled tasks, WordPress uses a system called WP Cron. If the cron is unable to run due to a misconfiguration on your WordPress hosting server, then your scheduled posts will miss the schedule and won't be published.
If you notice that your blog is affected by this, then you can install WP Missed Schedule plugin.
To learn more, see our article on how to fix the missed schedule post error in WordPress.
How to unschedule a WordPress post?
You can unschedule a WordPress post by editing the post and changing its status from 'Scheduled' to 'Draft'.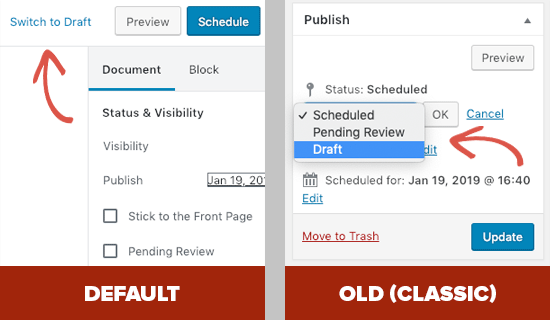 After you have changed a scheduled post to a draft, you can continue working on it, or you can publish it right-away if you want.
Can I also schedule WordPress pages?
Yes, you can schedule a WordPress page just like you would schedule a normal blog post.
Can I schedule changes to a published post or page in WordPress?
By default, you cannot schedule changes to a post or page you have already published. Any changes you make to a published post will become live as soon as you save it.
However, you can use the Tao Schedule Update plugin to make scheduled content updates.
For more details, please see our tutorial on how to schedule content updates in WordPress.
We hope this article helped you learn how to easily schedule your blog posts in WordPress. You may also want to see our guide on how to do keyword research for your WordPress blog to find blog post ideas and get more traffic.
If you liked this article, then please subscribe to our YouTube Channel for WordPress video tutorials. You can also find us on Twitter and Facebook.